Home of the Most Southern & Sweetest Selkirk Rex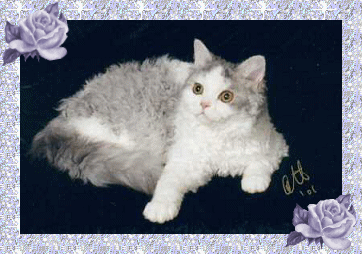 GC, BW LaPurr'fect Bluebell
#1 LH Selkirk Rex in CFA 2001-2002
The First Selkirk Rex to become a Grand Champion in 2 shows in CFA, also the 1st SR to Grand in the Southern Region of CFA!
*Specializing In;
-Van's
~Dilute Calico Van's;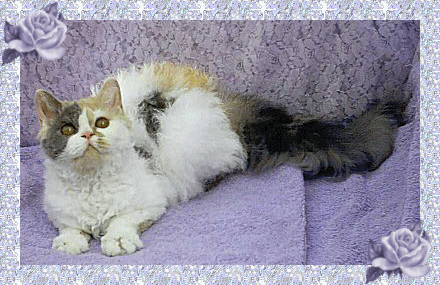 Country Curls "The Scent of Jasmine"
~Chocolate's (Future)
~Lilac's (Future)
~Lilac & Chocolate's (Future)
-Calico's
~Dilute Calico's;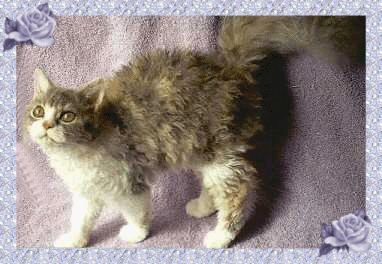 Country Curls "My Shining Starr" of KalicoKitz
~Lilac & Chocolate's Calico's (Future)
-Bicolor's
~Blue/white, Cream/white
~Chocolate/white, Lilac/white
~Brown Tabby/white
-Solids
~Blue's, Creams
~Chocolate's, Lilac's
~ Brown Tabbies
*With occasional dominate colors such as Black's, Reds, White's, Pointed's!
Intro
Country Curls Cattery is located outside of Tampa, Florida in a small town called Thonotosassa… I have a few acres to raise my animals & children on. I saw my first Selkirk Rex in the Annual 2000 CATS Magazine where IW RW SGC Oatree Cream Kid of Moonglo (a cream SH male) was the most beautiful cat in that magazine and I knew I had to have one! I was drawn to their curly coats & unique look! This cat is truly a CAT IN SHEEP'S CLOTHING, as the hair is so soft & is a pleasure to run your fingers through. They have curly coats from birth. There are short, medium & long hairs as well as the types of curls differ, from waves to ringlets. Selkirk Rex breeds continue to develop the gene pool as one of the newest breeds. We can outcross to Persians, Exotics, & British-Shorthairs but the majority of the SR breeders tend to stay with using more Persians.
History
The Selkirk Rex has been in the development for more than 13 years and began when a curly cat named Miss DePesto was rescued from the Bozeman Human Society by an employee who recognized her unusual coat. Her friend Jeri Newman who was a Persian breeder discovered that Miss DePesto was the locus of a mutant gene that was later confirmed by geneticists! Miss DePesto was breed to a black Persian which resulted in half of the litter being curly & half being straight-haired. She was breed only 5 times, once to PhotoFinish, twice to Oscar, one to Mr. Rogers & once to a shaded golden Persian (CH Razberrilane Purrpower of Big Sky). Hair samples from Oscar & Lil'Bopeep's Snowman were sent to genetics experts, along with background information on the origin of the breed and because this gene proved to be dominant, unlike the Devon or Cornish Rex, it was obviously different from either one! In the 10 years that followed, breeders from around the world worked together to develop a breed that would be accepted into the Cat Fanciers Association. On May 2000 the Selkirk Rex advanced into the Championship status in CFA
My Cattery
They primary purpose of my cattery is to help shape the development & to promote these fantastic cats into the show world & into homes where people can enjoy their sweet dispositions & beautiful curly coats~! I show mostly CFA but also TICA when they come to Florida & occasionally with ACFA. All my cats can be registered with all 3 associations, although mainly CFA. All my kittens/cats are guaranteed by a written CONTRACT . I am a fairly small breeder so I am limited to a number of litters per year. However, if you would like me to put your name on a request for a kitten list, which I call a Waiting List, I would be glad to contact you & let you know when I have kittens & what's available! I don't let my kittens leave until they are 10-16 weeks depending on whether they are going to a pet home or show home! My kittens/cats are all vet checked & come with Health Certificates, shots/vaccine records, Feline Leukemia tested (negative), worm checked (negative)/dewormed and I am in the process of testing all my breeding males & females for PKD & FIP titers. I do except payments via PAYPAL , cashiers check, money order, personal checks but kitten will not be sent until bank cleared!
DEPOSITS are nonrefundable!
I want to give a special Thanks to Mary Jones of Nitewind Cattery for my first LH Selkirk Rex female, which was the #2 LH Selkirk Rex in CFA 2001-2002 – CountryCurls "Prissy" of Nitewind, who unfortunately crossed the Rainbow Bridge in September 2002, due to unfortunate circumstances beyond God's control. However, she was loved & will always be remembered!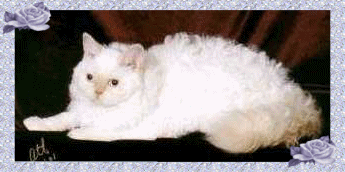 #2 LH Selkirk Rex in CFA 2001-2002
I also want to Thank Debra Sutherland of La'Purrfect Cattery for my second Selkirk Rex LH female – GC, BW La'Purrfect Bluebell, who has been a true inspiration & has accomplished many new goals for the new Selkirk Rex breed. She was the first Selkirk Rex EVER to grand in 2 shows in CFA. She was the #1 LH Selkirk Rex in CFA 2001-2002!
I think above all, we should thank Jeri Newman for the organization of our precious & delightful Selkirk Rex breed!!!!!!!!!!!
I want to say Thank You Very Much to my Best Friend & Colleague, who has helped me with my Website! Michele Aughenbaugh of KalicoKitz and B & M Design

For all you design needs. Please e mail
B & M Design
*GOD BLESS ALL!!!!!!!